⭐ Currently Open for Cartoony Art & Graphic Design Commissions!
✅ Will Draw- Original characters, fan art, you as a cartoon
- Draw This in Your Style (DTIYS)
- Cute & personalized drawings
- Couple drawings / shipping
- Greeting cards & birthday drawings
- Gore, swearing
❎ Won't Draw- NSFW, Furry, Mecha
- People in real life IF they will be made fun of
- Anything involving hate, drama, controversy, sensitive stuff, some triggers, or politics
- Characters in a realistic or anime style
- Traditional Art. Digital Only :)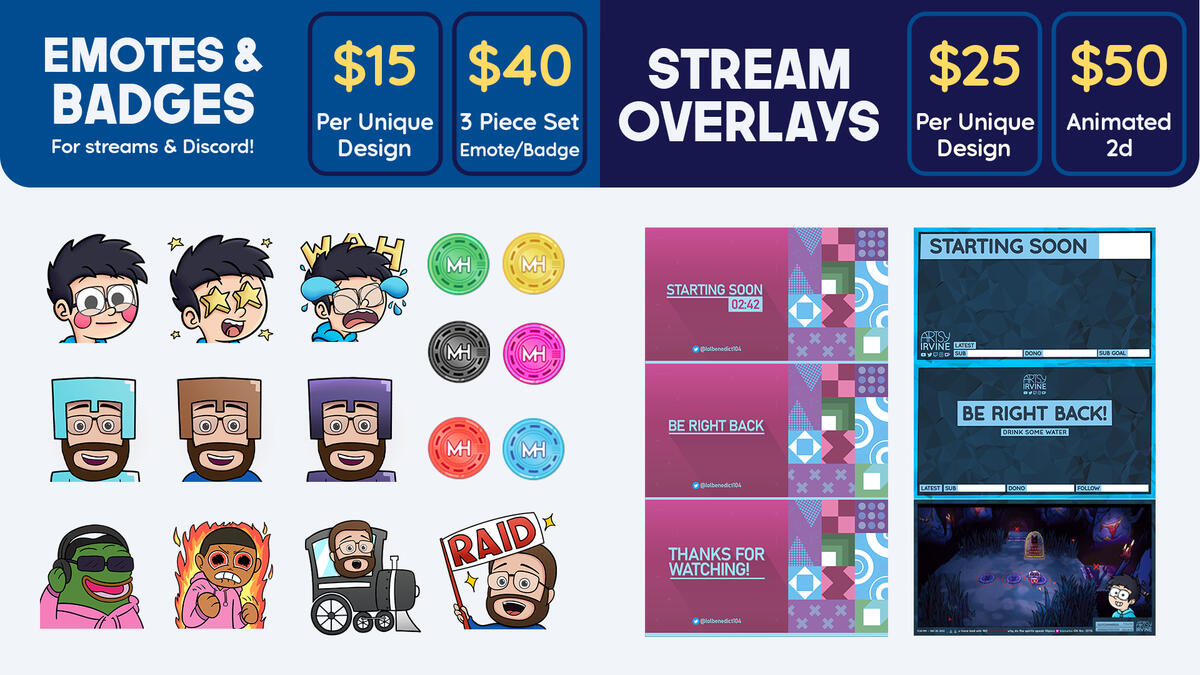 Add-ons (For All Commissions):
- Commercial Use: +50% of total price.
- Quick Deadlines (within 1 week): +50% of total price.
- Example: 1 Quick Half Body = $15 + $7.5 = $22.5 Total Price
- Please DM for other add-ons.
✅ STEP 1: Please DM & tell me what you want!
AVAILABLE COMMISSIONS:
- Digital Art | Logos | Discord & Twitch Emotes | Stream overlays | YouTube thumbnails, etc!
- Please include several references.
For Character Commissions, here's what you should tell me:
- Do you want an icon/half body/full body?
- With shading? With a background?
- What Pose or Facial Expressions?
- When do you need it? (deadline optional)
✅ STEP 2: Finalizing your request
- I'll ask more info about your request. Pls clarify it before payment.
- I'll send the Total Amount Due (USD) & a breakdown of the price.
- Before you pay, please make sure that you've read & you agree with my Terms of Service, and that your request is final.
✅ STEP 3: Commission in-progress
After the invoice is at least paid in half, I'll begin drawing the sketch.

When the sketch is done, I'll ask you if a revision is needed. After your approval, I'll proceed to finish the work.

Beyond this point, all additional revisions will cost extra (and need to be fully paid before the final commissioned art is given).

I'll DM you periodically to show progress, but please feel free to DM me any time for updates.
When the commission is finished, you will be emailed with:
(The files given to you will depend on the commission)
- Final artwork with & without watermark
- Transparent background version
- CSP files (given upon request)
- Files are .PNG & RGB unless discussed otherwise
- Canvas size: Around 1000-2000px - usually a square
⭐ And that's it!
After the commission is done, please answer my feedback survey where you can rate your experience and give any suggestions. bit.ly/IrvineFeedback2020As my way of giving back to the people who support me, you can receive the following:- Your name included in the credits of my next YouTube video.
- If you're in my Discord server, you'll be given the special Supporter Role (ask for link).
Terms of Service
By purchasing a commission from me ("Artsy Irvine"), it means that you ("the commissioner", "the client"), have read, understood, and agree to follow and comply with these terms and conditions.
- The commissioned artwork is for personal use only (unless the Commercial Use fee was paid). You're not allowed to sell the artwork in any way, use it for commercial purposes, or use/trade it as an NFT in any way.
- Commissions may take 1-4 weeks depending on my schedule. Pls feel free to ask for progress any time. I'll inform you if there will be any significant delay. "Rush orders" are allowed for a fee, but aren't always available.
- You agree that Artsy Irvine can use/post the commissioned art in portfolios, videos, etc.
- You can make edits to the commissioned art as long as you credit me for the original art.
- I have the right to refuse any request.
- You're not allowed to repost the artwork without credit (unless given written permission). Please credit & tag Artsy Irvine as the creator of the commissioned art. Please avoid posting the unwatermarked version of the artwork.
- You cannot claim that the commissioned art is your own or someone else's. I don't take ownership of your characters, but I own copyright to the commissioned art (unless a Release Form was signed).
- You can no longer ask a revision 14 days after the final commissioned art is sent to you.
- All communications about commissions must be through chat or email only (no voice calls).
---
Payments & Refunds
- Payments are 100% upfront. A commission will not be started until the agreed payment is settled.
- If you request for 50% down payment (min $20), there will be additional transaction fees AND all WIPs will be watermarked. File exports will only be given once fully paid.
- PayPal & Ko-fi only. DM me for Philippine payment methods (GCash, Maya, BPI).
- Total price will increase depending on the complexity & add-ons on your request (like character design, poses, etc.)
- Tips aren't required but are highly appreciated. Thanks! :D
- Refunds & Chargebacks are not allowed for any reason. Pls be sure with your request before paying. Art Commissions are digital goods that can't be "refunded".
- The PayPal transaction fee (4.4% + PHP 15) will increase the total amount due on the invoice. Please take note of this.
- You agree that you will not issue a chargeback without first attempting to reach out to me to resolve any issues.
- However, if I am unable to finish the commission, you'll be refunded in full.
---
More Information
- Art Commissions are made in Clip Studio Paint. Graphic Design commissions are made in Photoshop & After Effects.
- Requesting physical copies of the commissioned art are allowed. However, I don't have any means to do this if you are outside the Philippines. If you are interested and have suggestions on how this can be done, let me know. All printing/shipping fees will be shouldered by the client.
- Commissioned Art doesn't automatically come with a background. If we did not discuss about it, it may or may not come with one.
- My art style is very cartoony. All commissioned artworks will be drawn in my own style unless explicitly stated otherwise. I enjoy drawing in a more cartoony style.
- The commission will be put on hold if the client stops responding at any stage of the process. It's your responsibility to inform me if you change accounts.
- I may create a Speed Art of the commissioned art or livestream while creating it.
Info on this page may change without notice. Remember to check back while your commission is being worked on.
Last Edited July 2, 2022